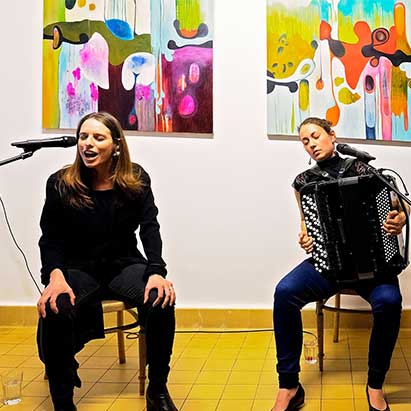 Annabelle Plum & Žaneta Vítová
Annabelle Plum studied Theatre Arts (Brown University, USA) and Performance Design and Practice (Central St. Martins, UK). During her time in the USA she became well-oriented in the local theatre scene and worked for Wooster Group and Richard Foreman as an intern. Nowadays her occupation is experimental singing. She has lived in Prague since 2009, teaching and leading vocal workshops. From 2013 to 2015 she was an external lecturer of Voice Creation at the Department of Alternative and Puppet Theatre with a specialization of Theatre in Non-Traditional spaces. Annabelle Plum is a founding member of Topos Kolektiv.
Žaneta Vítová studied accordion at the Prague Conservatory. Since then she has widened her classical music education by using elements of jazz, land art and improvisation. With the artistic group Na okraji, she has created land art pieces (works inspired by land, non-violently placed into its context) in the Sudetenland around Anenská Studánka and Rychlebské hory. Vítová is a member of the experimental band Dust in the Groove (Brno), combining modern classical music and improvisation. In addition she collaborates with the singer and vocal artist Annabelle Plum. Together they create improvised music in a duet featuring the accordion and voice. Vítová has also performed in the opera Powder Her Face with the Janáčkovo divadlo opera group and also cooperates with the Opera Diversa group. Other than artistic activities, Vítová's focus is on alternative educational ways and effective communication.
EVENT LIST:
VOICE AND BEYOND / CONCERT