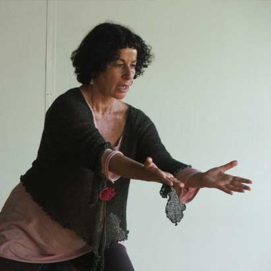 Smadar Emor is a dancer, a choreographer, a voice movement artist and a teacher. She has engaged in artistic activities for many years, within the scope of which Smadar has often created for the Israel Festival, and for various other festivals in Israel and abroad. She is a graduate of the Bezalel Academy of Art, Department of Environmental Design and the Rubin Academy of Music and Dance, Jerusalem – ( Eshkol-Wachman Department of Movement Notation).
In addition to her academic studies she continued advanced studies in various methods relating to the field of movement, such as voice, theater and alternative methods of healing. She has been particularly influenced by  Feldenkrais, the Alexander Technique, Contact Improvisation (she worked with American artists such as Lisa, Nelson, Steve Paxton and Daniel Lepkoff ) and buto dance.
She also learned  voice-movement therapy  (with Paul Newham from the  UK),and work with Maud robar (who worked for ten years with the Polish director Izzi Grotowski from Pontedra,  Italy). Smadar has also studied ancient  resonance healing songs  and rituals from different cultures. completed a course in Taoist reflexology, and is a Reiki Master. For two decades Smadar has been teaching the work that she develop " voice in movement integration " a work witch integrate her large and deep knowledge and her personal research for the sources of life and the way they Experienced themselves through the human body and voice. For ten years  ( 1990-2000) she taught at the" School of Visual Theater" in Jerusalem, and at the Jerusalem High School for the Performing Arts. She has taught courses on voice and holodynamics together with psychologist Yuval Karni, given courses on 'Voice in Movement – The Healing Voice' at the Reidman College for alternative medicine  in Jerusalem, she conducts workshops on "voice in movement integration" for dancers, singers  and actors in various academics for art in Israel and abroad . Smadar also works with actors and dancers on individual projects.
She work as an artist and with artists as well as a therapist in the work that she develop, in Israel and in Germany. In the last three years-2011-2013 she is studying in the Tel Aviv University and writing her thesis  about  "musical self –vocal portraits" in the department of theatre and performance study. In 2004 Smadar Emor established the "Synapse Center for the research of the human voice" using "voice in movement integration" as the main method for art and therapy.
Her participation at the NaHlas Festival is possible thanks to Hlasohled. 
EVENT LIST:
VOICE AND BEYOND / CONCERT
The vocal self: inner landscapes / Workshop with Smadar Emor
Event List
07:00 PM Malostranská Beseda, Malostranské nám. 35/21, 118 00 Malá Strana, Česko