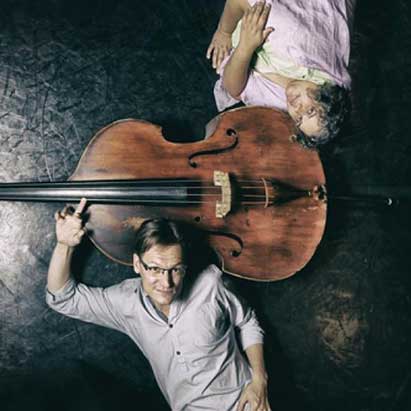 Ridina Ahmedová and Petr Tichý's collaborative project HLASkontrBAS (Voice vs. Bass), features a jazz fusion of voice and acoustic double bass, pure music without the usual layer of accompanying instruments.
Ridina Ahmed is the author and co-author of several soundtracks of theatre performances. She has worked with many different musicians and has been invited as a guest to a couple of film music recordings. In addition she has been a guest at various concerts including, for example, in 2008, when she improvised with Bobby McFerrin during his show. At the Next Wave Festival in Prague, Ahmed was awarded the "Discovery of the Year" for her solo project Hlasokraj, a project combining a projection with a live concert. She is the founder of Hlasohled, a company that organizes outstanding seminars in the Czech Republic focused on the voice and its overlapping themes.
Petr Tichý specializes not only in jazz (e.g. Marek Novotný Quintet, Paul Novotny Trio), but also in electronic projects. He was featured as a guest on the Bratři Orffové's  (Orffov Brothers) Bingriwingri album, has taken part in Floex albums and concerts and is a member of the music group Alvik. He has also worked with the Slovakian group Veneer and musicians such as Ida Kelarová and Vladimír Václavek. In addition he has accompanied many singers such as Tonya Graves, Feng Jun Song, Milli Janatková, Sylvie Krobová and others.
EVENT LIST:
HLAS KONTRA BAS
Event List
09:00 PM Hybernská Campus, Hybernská 998/4, Nové Město, 110 00 Praha-Praha 1, Česko